Several years ago, learning skills such as photography would require a specialized degree or career. These days however, interactive classes offered by several platforms online have eased the process of learning, while making them more affordable and easily accessible. If you are someone who is interested in photography, here are some ways to advance your skills on your own time!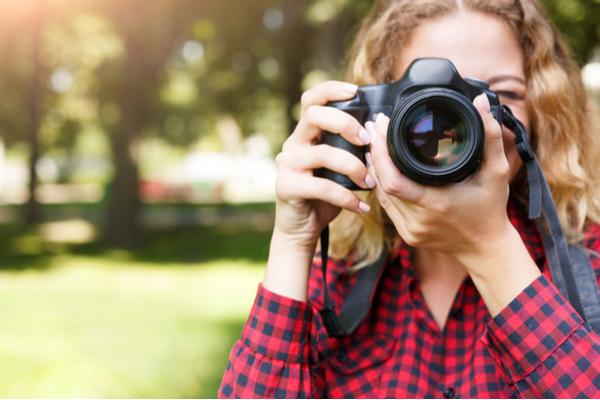 Benefits of Advancing Your Skills in Photography
They say 'a picture is worth a thousand words', and that has never been more true. As cameras become more accessible in our smartphones and social media increases the demand for quality images, there has never been a better time to master photography than now. Here are some additional benefits that come with advancing your skills in photography:
1) Personal Growth
Just because you may not pursue a career in photography doesn't mean you can't master your craft! There is nothing wrong with having a fun hobby and spending countless hours getting better at it. For many people, they are at their happiest when editing pictures or wandering the streets looking for the next best angle or camera lens. Don't be afraid to pursue the things that you love!
2) Connect With Friends
As mentioned previously, social media has had a dramatic effect on people's interest in photography. Never before has it been easier to share your art with fellow friends, family and colleagues. While each person has their own interest in social media, nothing captivates attention quite like a beautiful image. Photography can be a great way to express yourself and help create a unique identity amongst the other billions of profiles that can be found online.
3) Increase Your Creativity
Speaking of creativity, photography is a great way to step outside of your comfort zone and expand your interests. The skills and places you can go pursuing photography are endless. While looking for a new place to take pictures, you may end up in a completely different part of town, or surrounded by a completely new group of people. All of this will not only help your photography grow, but might also pique your interest in entirely new artistic fields!
4) Upgrade Your Professional Skills
Even if you don't plan on pursuing a career in photography, mastering a new skill can only ever be a positive. Not only does it give you another skill to add on to your CV/Resume, but it can open doors at your current employer. If your company starts a new project or needs someone quickly with experience in photography, you might be able to step in and help your business grow. You may even be able to propose to your manager that they use your skillset as you have been working on it during your own time!
Where to Find the Best Online Photography Courses
Rather than spending the time and money on a 4-year degree, there are plenty of online courses where you can either learn the basics of photography or even polish your master skills. Here are some of the most highly recommended options:
1) Creative Live
Creative Live is a website that offers courses on a number of different artistic ventures, such as photography, crafts or baking. However, their photography courses are where they truly shine.
Creative Live's photography course has over 110,000 registrations and over 24 hours of content [i] Users can learn at their own pace, choosing to start lessons from the very beginning with the basics or jump right ahead to the more complicated lessons. Skills range from basic camera settings to photo-editing. The class comes in at a very reasonable cost of 13$/month, or a one-time fee of 119$.
2) Udemy
Another platform that offers courses on a wide range of disciplines, Udemy also offers a fantastic introductory course in photography. While this may be geared more towards beginners, even advanced photographers may be able to use a refresher on the over 2.5 hours of course material. [ii]
One of the major benefits of registering for the course on Udemy is that there is both a paid and unpaid version. Users who pay for the experience will be able to set up one-on-one times with course instructors, greatly increasing their ability to learn as much as possible. They will also be rewarded with a certificate of completion, which they can keep with them forever.
3) Cratfsy
Another website with great introductory courses for beginners, the Craftsy course in photography has over 2 hours of great content spread throughout 9 sessions. [iii] The course will take you all the way from the basics of the camera settings and functions all the way to image composition.
While the individual introductory photography course can be purchased for as little as 30$, one of the best parts about Craftsy is that users can sign up to a full website membership and get access to all kinds of other amazing courses. There are more advanced level photography courses, as well as different disciplines – perfect for anyone who is looking to add a variety of artistic skills!
4) Coursera
Coursera is an amazing platform that collaborates with universities all across the USA to offer courses on a variety of disciplines. For photography, Coursera has partnered with Michigan State University on a short course that already has over 84,000 people enrolled! [iv]
This course is specially designed for beginners in photography. Their website proudly states that over 60% of their 'graduates' used it to get a job, while a further 17% used the included certificate to get a promotion/pay rise at work. In addition, this course is offered in a number of languages from English to Turkish, so if you speak english as a second language you might be in luck!
5) Skillshare
Skillshare is one of the most well-known online course providers, so it's no surprise that they offer a great course on photography! [v]
One of the main benefits of Skillshare is that since the network is so vast, it's very easy to interact with instructors or peers on how to either get started or master photography skills. There are dozens of different photography classes, so we recommend that users first look at the course preview to see if it meets their particular skillset. If you're interested but not sure, Skillshare offers a 14 day free trial period, so there is almost no risk!
Conclusion
Whether it's pursuing a career or a favorite hobby, photography offers something to learn for everybody. There are a multitude of courses that one can take online from the comfort of their own home. Before choosing the right course for you and your skillset, we recommend doing some independent research to find the right match. We look forward to seeing your portfolio in the near future!
References
[i] "Fundamentals of Photography". 2021. CreativeLive. https://www.creativelive.com/class/fundamentals-of-photography-john-greengo
[ii] "Introductory Photography Course". 2021. Udemy .https://www.udemy.com/course/free-photography-course-for-beginners/
[iii] "Basics of Digital Photography". 2021. Craftsy.https://www.craftsy.com/class/basics-of-digital-photography/?sscid=11k5_4zi81# .
[iv] "Photography Basics and Beyond: From Smartphone to DSLR Specialization". 2021. Coursera.https://www.coursera.org/specializations/photography-basics  
[v] "DSLR Photography". 2021. Skillshare. https://www.skillshare.com/site/join?via=browse-rating-all-layout-grid&clickid=zjbx3aT-qxyOU3awUx0Mo38XUkEyLMQlLWK70o0&irgwc=1&utm_content=4650&utm_term=Online+Tracking+Link&utm_campaign=2296861&affiliateRef=6595003&utm_medium=affiliate-referral&utm_source=IR&t=DSLR-Photography-II-Understanding-Lenses-Focal-Length-Shooting&sku=378823504