Do you want to help people resolve their personal problems and achieve happier lives? If so, a career in counseling may be perfect for you! Counseling is a challenging and rewarding profession that helps people deal with a wide range of issues. Let's review the benefits of getting a counseling degree and how to start your career as a counselor!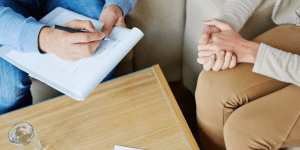 What Does A Counselor Do?
Counselors are responsible for helping people deal with their problems and emotions. They do this by providing therapy and counseling services. People who need help dealing with personal or emotional problems can go to a counselor for assistance.
Counselors work with a variety of clients, including children, adolescents, adults, and families. They may also work with individuals who have mental or physical health problems. Counselors help their clients by providing support, counseling, and therapy.
Counselors can be helpful in many ways. They can help people work through difficult emotions, manage stress, and develop coping skills. Counselors can also provide guidance and support to people who are struggling with life changes or decisions.
Day In The Life Of A Counselor
So what exactly does a typical day look like for a counselor? Well, like most jobs, it varies depending on the day. But in general, counselors spend their time meeting with clients, providing therapy and counseling services, and working with families and groups. They also often do administrative work, such as maintaining records and writing reports.
One of the most important aspects of the job is building relationships with clients. Counselors need to be able to create a safe and trusting environment so that clients feel comfortable opening up about their thoughts and feelings. It's also important to be able to listen attentively and provide support and guidance when needed.
In addition to helping clients, counselors also play an important role in educating the public about mental health issues. They can do this by giving talks or writing articles about various topics related to mental health.
So that's a little snapshot of what life as a counselor is like. It's a challenging but rewarding job that requires compassion and empathy along with strong clinical skills.
Benefits Of Working As A Counselor
1. Counselors Can Help People Address and Manage Mental Health Issues
Mental health is a critical aspect of overall wellness, and yet it can be difficult to address and manage on one's own. Counselors can provide invaluable support in this regard, helping clients to identify and understand their mental health issues, work through associated emotions, and develop strategies for managing them effectively.
2. Counselors Are Highly In Demand
Mental health services are in high demand, and counselors are needed to help meet that need. With the right degree and credentials, you can be well-positioned for a successful career as a counselor.
3. Counselors Can Help People Address and Manage Substance Abuse Issues
Substance abuse can have a devastating impact on individuals, families, and communities. Counselors can play a key role in helping people to overcome substance abuse issues, providing support in identifying and addressing the underlying causes of addiction, developing healthy coping skills, and maintaining abstinence.
4. Counselors Are Well Compensated
Counselors are often well-compensated for their work, with salaries ranging from $50,000 – $70,000 annually. In addition to a generous salary, counselors can also enjoy flexible scheduling options and the satisfaction of helping people on a daily basis.
Education Requirements To Work As a Counselor
It's no secret that in order to work as a counselor, you need to have a certain level of education. But what are the specific requirements?
First and foremost, most states require that counselors hold at least a master's degree in counseling or a related field. However, some states do allow those with a bachelor's degree in counseling to become licensed counselors.
A popular option has been to complete an online Master's Degree in counseling. These programs provide the necessary education and training needed to become a successful counselor, while still allowing students to work at their own pace from the comfort of their own home.
Beyond the required degree, there are various coursework and training requirements that counselors must meet in order to be licensed. This can include topics such as counseling theories, human development, assessment techniques, and therapeutic interventions.
In order to keep their licenses up-to-date, counselors are also typically required to complete a certain number of continuing education hours every year. This may include courses on new counseling techniques, ethical standards, and research findings.
So if you're interested in becoming a counselor, be sure to check the specific requirements of your state. The good news is that most states have very similar standards, so once you meet the basic requirements you'll be able to work in most places in the country.
Possible Job Opportunities As a Counselor
There are many possible career paths to pursue with an education in counseling, but here are 4 popular options to consider:
1. Social Worker
Social workers help people who are facing a variety of challenges, such as unemployment, mental illness, family problems, and addiction. They work in a variety of settings, including hospitals, schools, and social service agencies.
2. Marriage and Family Therapist
Marriage and family therapists help people deal with issues that affect their relationships with others. They work with couples, families, and groups to improve communication and resolve conflicts.
3. Psychologist
Psychologists study the behavior of people and animals and how they think, feel, and learn. They use this information to help people deal with mental health issues and behavioral problems.
4. School Counselor
School counselors help students deal with personal, social, and academic problems. They provide guidance on choosing a college or career, and they may also provide therapy to students who are struggling emotionally or socially.
Wrapping Up
A degree in counseling can be a great way to launch your career as a counselor. With the right credentials and training, you can help people deal with various life challenges and make a positive difference in the lives of those around you. If you are interested in making a difference through counseling, don't hesitate – start pursuing your dream today!
References
1.) "Online Masters In Counseling" BestCounselingDegree (2022):
https://www.bestcounselingdegrees.net/degrees/online-masters-in-counseling/
2.) "Counseling Careers" Online Counseling Programs (2022):
https://onlinecounselingprograms.com/become-a-counselor/counseling-careers/
3.) "Learn How to Become a Counselor" All Psychology Schools (2022):
https://www.allpsychologyschools.com/counseling/how-to-become-a-counselor/